Al Shabaab conducted its longest-ever siege on a hotel in Somalia's capital on August 19, marking a stepped-up effort to destabilize the country's new administration and derail support for its counterterrorism agenda. This attack may have also aimed to disrupt Somali leaders' responses to al Shabaab's ongoing campaign along the Ethiopian border. The August 19 attack highlights the Somali government's challenge in balancing its campaign against al Shabaab in central Somalia with the group's attack capability in politically sensitive and strategically valuable areas of southern Somalia.
Figure 1. The Salafi-Jihadi Movement in Africa: August 2022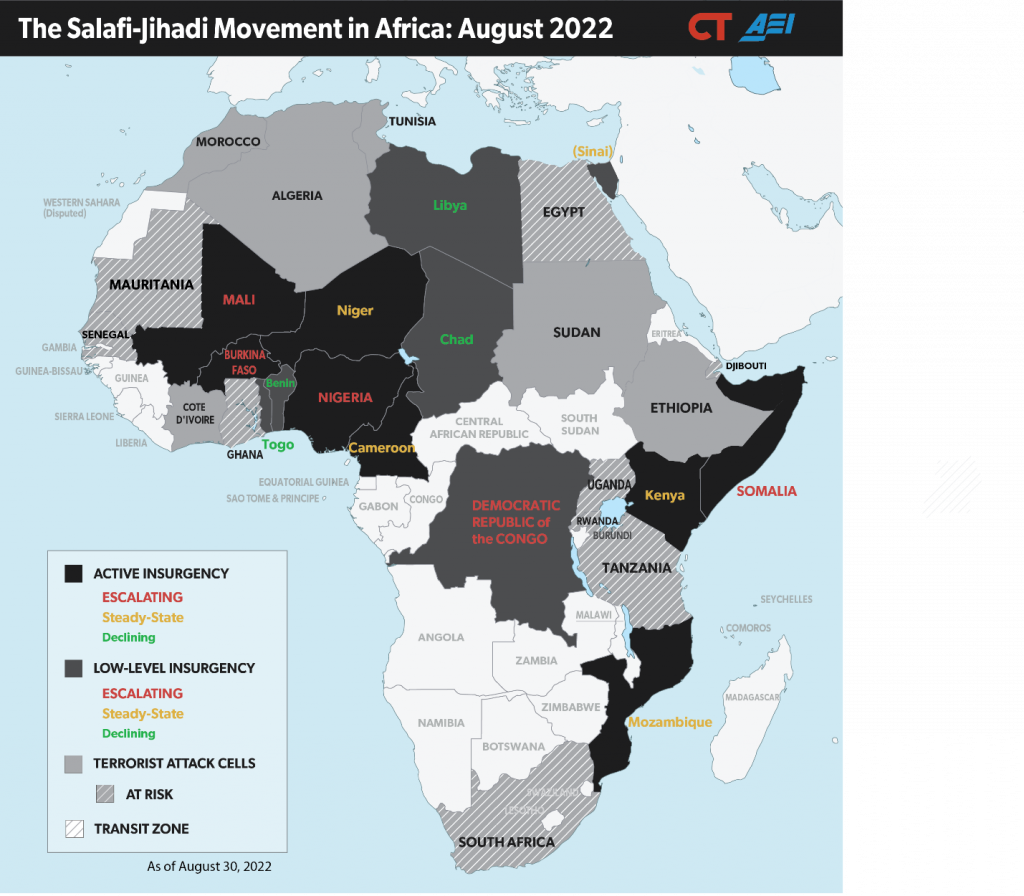 Al Shabaab conducted a complex suicide attack targeting the Hayat Hotel in Mogadishu on August 19, causing dozens of casualties and highlighting coordination problems between Somali security forces. Suicide bombers used an explosive vest and a vehicle-borne improvised explosive device (VBIED) to target security checkpoints and breach the hotel's perimeter, allowing four attackers to enter the hotel. Turkish-trained special Haramcad police and regular Mogadishu police responded slowly, arriving an hour after the attack began. Al Shabaab repelled the police with grenades and a second suicide vest attacker, who hid among fleeing victims. US-trained Alpha Group Gaashaan special forces took over the response after two hours but struggled to end the siege or coordinate with the other units. Turkish-trained Gorgor special forces eventually reinforced* the Gaashaan and helped end the siege after 30 hours. The attack killed 21 people and wounded at least 117 others, according to official estimates.
The Hayat attack underscores al Shabaab's continued strength in Mogadishu and the surrounding regions. The Hayat attack is the first siege assault in Mogadishu since January 2021, but it joins a long list of other hotel sieges over the past several years. Government officials often do business or even live in hotels in Mogadishu for security purposes. Al Shabaab has substantial support zones in Mogadishu's outer districts and the neighboring Lower Shabelle region, which it uses to stage these complex attacks. Two al Shabaab bomb makers died* making a VBIED in outer Mogadishu's Dharkenley district in late July, roughly five miles from the Hayat Hotel. The incident indicates that al Shabaab has VBIED manufacturing facilities in Mogadishu's peripheries. Previous counterterrorism raids also show that al Shabaab commanders and technical experts* coordinate and support operations in Mogadishu from neighboring areas.
Figure 2. Al Shabaab's Area of Operations Around Mogadishu: August 2022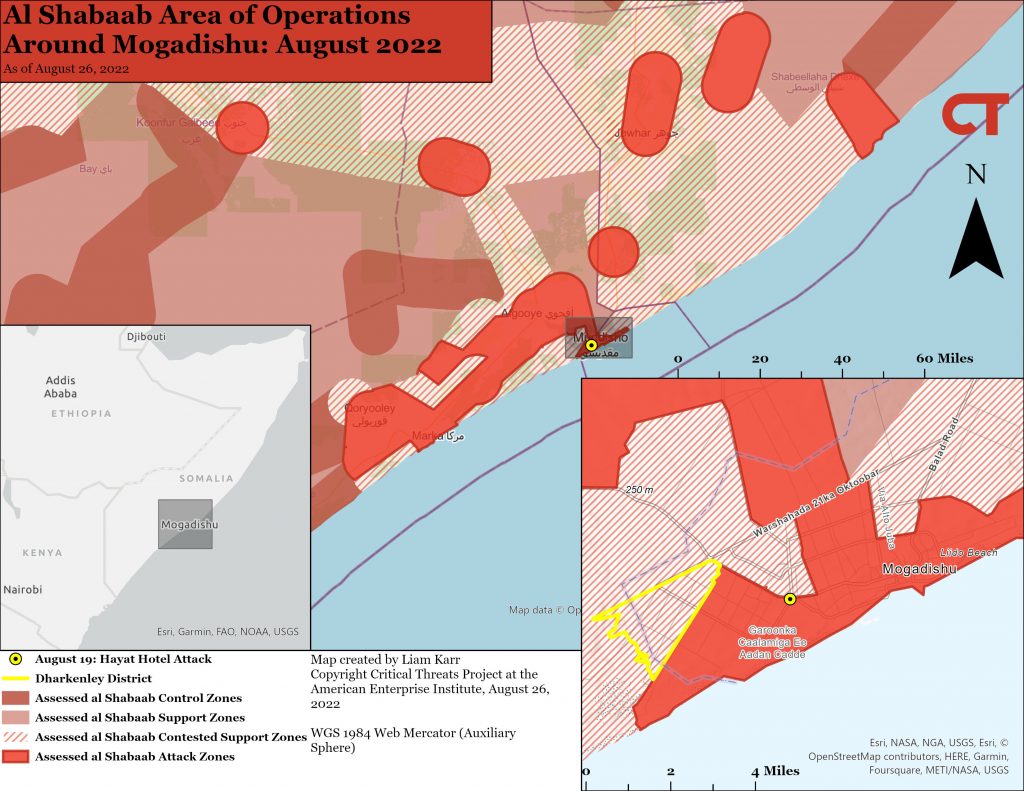 Al Shabaab likely conducted the Hayat attack to intimidate politicians and undermine support for the new Somali Federal Government administration and its counterterrorism efforts. President Hassan Sheikh Mohamud took office in April 2022 promising to launch a multifront ideological and military war against al Shabaab that would begin with a military offensive to contain the group and push it back deeper into the countryside. President Mohamud launched a counter–al Shabaab offensive* in central Somalia in June 2022 that has cleared* numerous* villages.* The government attempted to cement these gains in Hiraan region by coordinating governance* and resource provision* structures for local populations in August. The Somali National Army has likewise focused on working with and supporting* local militias. Al Shabaab has responded with sporadic and geographically spread attacks that does not amount to a cohesive counter-offensive. A single suicide VBIED attack targeted security forces north of Beledweyne on August 5. Al Shabaab militants ambushed* a security force convoy east of Beledweyne on August 16. Al Shabaab fighters also claimed to drive a local clan militia out of a village west of Beledweyne on August 31.
Figure 3. Somali Forces Wage Central Somalia Offensive: Summer 2022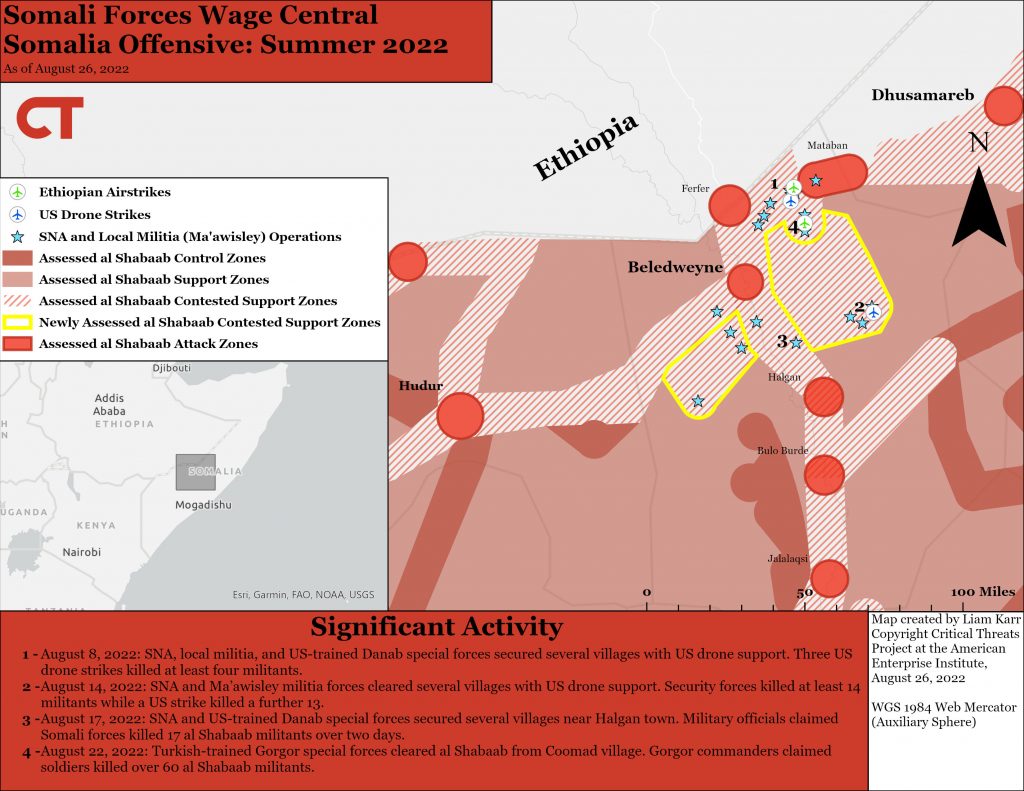 Al Shabaab responded to President Mohamud in an August 21 statement following the Hayat Hotel attack, mocking him for "claiming he could crush" al Shabaab and declaring a war he is "unprepared to wage."[1] Al Shabaab also threatened Somali Federal Government (SFG) officials, saying that al Shabaab would be the ones to "crush" SFG personnel and that government officials should be afraid to sleep in their own homes. Al Shabaab likely framed the attack as a response to the government's offensive to intimidate politicians and undermine political will for further counterterrorism offensives. This framing implies that more counterterrorism operations will lead to more al Shabaab attacks and that the government will be unable to protect people from these attacks.
Al Shabaab may have targeted the Hayat Hotel to hamper responses to its cross-border offensive into Ethiopia. Al Shabaab launched a large offensive with at least 1,500 fighters along the Ethiopian border from Somalia's South West and Hirshabelle States in late July. Ethiopian forces repelled most of the attackers. It is unclear if al Shabaab retains a small presence in Ethiopia. Al Shabaab has continued to target Ethiopian forces along the border with mortars* and roadside improvised explosive devices.* Ethiopian and South West State leaders have conducted several* discussions* to increase* security cooperation in the weeks since. Al Shabaab may have targeted the Hayat Hotel—a favorite lodging for political and clan leaders from South West State—in a bid to disrupt further security coordination efforts. A group of clan elders from Ethiopia's Somali Region reportedly died in the attack. Neither al Shabaab nor Ethiopian or Somali officials have publicly tied the Hayat Hotel attack to al Shabaab's cross-border campaign, however.
Al Shabaab has sustained activity in other areas of southern Somalia and Kenya, demonstrating its ability to sustain multiple resource-intensive campaigns. Al Shabaab raided numerous Somali, Kenyan, and Ugandan bases in near-concurrent attacks on August 13 and 20 and has also maintained its regular daily attacks on security forces across Somalia.[2] Al Shabaab also increased its activity in Kenya's border regions in August, including intimidating* Kenyan citizens and attacking* polling stations and ballot transports* with the aim of disrupting Kenyan elections.[3] The group threatened to strike at the "heart of Kenya" if president-elect William Ruto does not withdraw Kenyan soldiers from Somalia.[4] These patterns are consistent with preexisting al Shabaab campaigns to expel foreign forces from Somalia, target democratic processes, and undermine the Kenyan government's support among the ethnic Somali population of northeastern Kenya.
President Mohamud doubled down on his preexisting counterterrorism plan after the Hayat Hotel attack, indicating that a significant shift in the administration's counterterrorism approach is unlikely in the short term. President Mohamud gave a televised speech on August 23, his first public remarks following the attack. He vowed "total war" against al Shabaab and emphasized the importance of his administration's ongoing counterterrorism efforts. Mohamud stressed* that his counterterrorism strategy, which aims to fulfill his campaign promise of ending al Shabaab terrorism in Somalia, is still being prepared and implemented. Mohamud also said* that al Shabaab attacks seek to "distract the government from its plan to liberate the country." The Somali government has not appeared to initiate significant changes to its counterterrorism approach since the Hayat Hotel attack. Security forces resumed clearing* operations* in the regions bordering Mogadishu after a lull for nearly all of August.
Muqdisho-Somalia